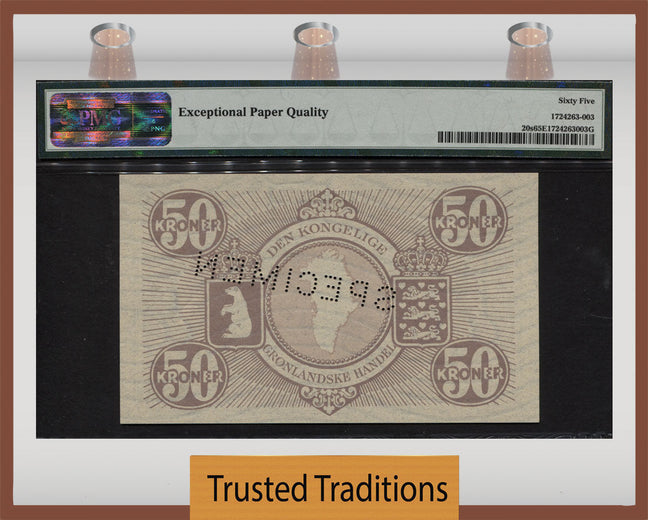 TT PK 0020s ND (1953-67) GREENLAND 50 KRONER SPECIMEN PMG 65 EPQ GEM UNCIRCULATED!
TT PK 0020s ND (1953-67) GREENLAND 50 KRONER SPECIMEN PMG 65 EPQ GEM UNCIRCULATED!



 

 

 


"SPECIMEN" ND (1953-67) 50 Kroner from Greenland. Pick number 20s and serial number 0235067. Specimen note graded 65 EPQ (Exceptional Paper Quality) Gem Uncirculated by PMG! Incredible note with intense colors and evident embossing! Extremely crisp cream paper! The national coat of arms of Denmark consists of three crowned blue lions accompanied by nine red hearts, all in a golden crowned shield. The old coat of arms of Greenland is a blue shield featuring a silver polar bear, and the shield is crowned with the royal crown. The watermark is a repetitive wavy pattern with a crown. Around map at center on the back.

With nearly 20 years experience, we state its today's EBay Buyer who purchases HIGH GRADE WORLD NOTES at today's insane ridiculous lowest possible prices that will earn returns far beyond any expectations you may have. When we first started promoting PMG and PCGS certified United States Rare Paper Money some 10 years ago ,We insisted and declared please buy less notes but purchase the highest grades that you can afford for each type note . Today, those same notes are 5-10-15-20 times the value of their initial selling prices History often repeats itself and WORLD PAPER is the last frontier in collecting Rare Paper Money ,as the UNIVERSE continues to shrink and PMG and PCGS opens up Submission offices in Various Countries their brands will become as familiar household names as familiar household names as the most popular main stream designers! It's the early bird who catches this worm and those who invest and acquire the highest grades that they can afford will benefit better then any other rarity that we are aware of !!! Please always look at our Auctions as we will continue to bring you the finest material the World has to offer at today's severely under valued prices . Mark our words as we know what we are talking about ! 3-5 Years from now you will only say to yourself, I coulda woulda shoulda bought more than I did . Please contact US to confidentially discuss your short and long term Goals. Please contact us by email or here at the office if there is anything we can do for you. Enjoy! 22318tyyzzgh
---
Trusted Traditions


---
Shipping and Insurance Policy
Trusted Traditions recommends because we will be offering 100's of weekly auctions with No Reserves that each buyer wait 7-14 days before checking out and paying if you are interested in other items and want to combine shipping fees and save money.
Simply pay all at once, one time and all your items will ship in one heavy duty double box with the lowest possible shipping fee based on the total value on the full order.
If you are in the USA and the total values of all your items are less than $250 you pay only $6 exact shipping fee for Priority mail with full insured tracking information.
For total values From $250 to $100,000.00, the maximum the USA buyer pays is $23 for Express Mail insured overnight by 3pm the next day. (We pay a Private secondary Insurance Company that insures all orders thru the United States Post Office)
For ALL International orders who pay all at once and the total value is under $200 you pay $11 Priority mail with full tracking information , Totals Over $200 to $100,000.00 the Max you pay for all your items in one box in $26 for Registered Insured Mail with door to door tracking .
By the end of the day you paid in full or first thing in the morning you will get the exact full tracking information to follow. Keep in mind with MOST international packages as soon as the package leaves the United States borders often times tracking goes dark , this does not mean the package is lost , it means the Post office's computer systems does not update as fast as we like them to but after 20 years in business and 50,000 packages only 2 packages ever got lost so please allow 30-60 days for each package !
Do not be concerned with your package until the arrival time is delayed beyond the 45th day of the initial shipment. Then kindly email us to immediately investigate.
99 percent of the time because these registered insured packages must be signed for they often SIT at the Post Office waiting for YOU to claim the package so please inform your Post Master you are expecting this package.
eBay mandates WE ship within 24 hours of payment so we can NEVER hold orders once you pay but you can delay payment up to but no longer then 15 days from the time of your very first purchase .
This information informs all new eBayers who ask these same questions daily from all walks on earth, at all hours of the day who deserve a very fast reply regardless what time of the day it is. Also keep in mind we are closed on all weekends and USA Holidays.
Any further questions Please Inquire.
Sincerely, 
John Markis President  
Thanks for Bidding on our Auctions and have Fun !!!!