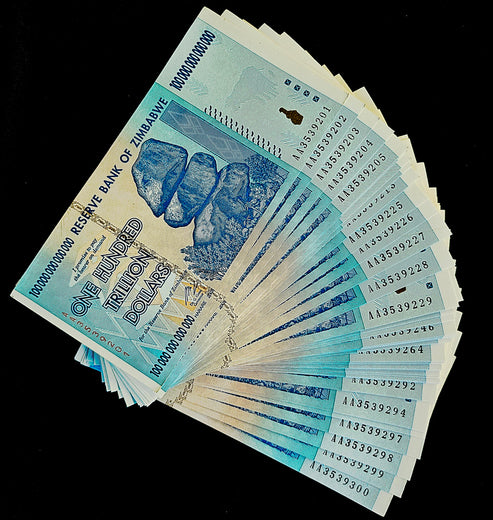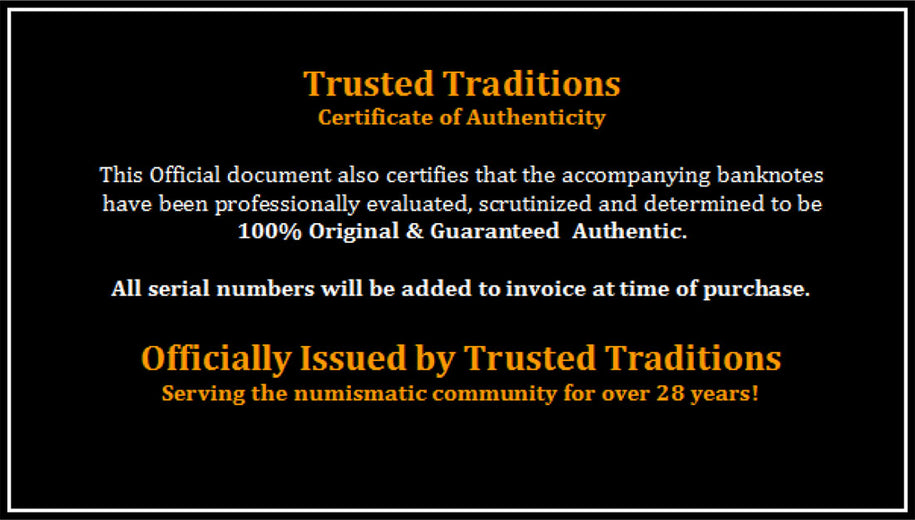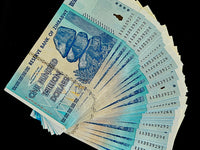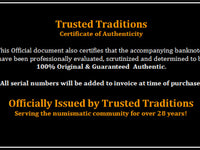 TT PK 91 2008 ZIMBABWE 100 TRILLION PACK 100 NOTES SEQUENTIALLY NUMBERED W/ COA
TT PK 91 2008 ZIMBABWE 100 TRILLION PACK 100 NOTES SEQUENTIALLY NUMBERED W/ COA!

 

 

 

 


In our current inventory is an opportunity to acquire a fresh pack/bundle of 100 total uncirculated 100 trillion dollar notes with sequential serial numbers. Serial number AA3539201 - AA3539300. Each bill and its serial number will be documented and entered onto a certificate of authenticity that affirms every note is original, real and has passed the detailed testing procedures. An example of trusted tradition's C.O.A (Certificate of Authenticity) is enclosed and pictured.

Upon receipt of purchase you will receive our certificate of authenticity (coa) documenting every exact enclosed serial number.

As you may know the 100 trillion dollar bill is and will always be the number one collected bought and sold note in our entire numismatic hobby. As the supply continues to dwindle and availability dissipates prices will continue to rise dramatically over the coming years. Many of you recall 15 years ago prices starting re-selling as low as $2.75 to an all-time last summer's high of $300.00 per note.

Simply a tremendous occasion to add this fresh, well margined, sequentially numbered pack of 100 notes to your portfolio. It's very possible we may have an additional bundle/pack to offer at the conclusion of sale but you would have to ask.

Any furtherance of questions do not hesitate to email/call/or/text.. Happy collecting !!!   
With more than 25 years of experience, we can say with confidence that it's the eBay buyer who purchases HIGH GRADE WORLD NOTES at today's low prices that will earn returns far beyond any expectations you may have.  When we first started promoting PMG and PCGS certified United States Paper Money more than 15 years ago, we advised customers to buy fewer notes but purchase the highest grades that you can afford for each type. Today, those notes are worth five, ten, or twenty times the value of their initial selling prices. History often repeats itself and WORLD PAPER is the last frontier in collecting Rare Paper Money. As PMG and PCGS open up grading submission offices in various countries, their brands are universally recognized as the gold standard in certification. It's the early bird who catches this worm, and those who invest and acquire the highest graded notes that they can afford will benefit more than any other collectible. Please check our listings often, as we will continue to bring you the finest material the world has to offer, at today's highly undervalued prices. A few years from now you will only say to yourself, I coulda, woulda, shoulda bought more. Feel free to contact us to confidentially discuss your short and long term collecting goals. Please contact us by email or here at the office if there is anything we can do for you. Enjoy! 102423lc.
---
Trusted Traditions
John Markis
President
SHIPPING POLICY
Shipping cost for International Packages
Unfortunately with the rise of gas prices and everything else, FedEx increased the prices for international postage. We hold as much as we could to not pass the new prices to our customer, unfortunately we couldn't hold the prices any longer.
Always have in mind to combine your items to save on shipping.
First Class International: Total Value Under $150.00 = $25.00 and add $0.50 cents per extra item.
Registered Insured International exact costs are: Total Values from $151.00 up to $100,000.00 = $33.25 adding $0.50 cents per extra weighed item.
REGARDLESS OF THE NUMBER OF NOTES AND/OR AUCTION COST BEFORE SHIPPING, AT AN EXACT POSTAL RATE OF $33.25 PLUS $0.50 FOR EACH ADDITIONAL WEIGHED ITEM.
THESE ARE THE EXACT POSTAL PRICES THAT WILL BE STAMPED ON YOUR PACKAGE SO YOU CAN SEE THE EXACT POSTAL COSTS.
WE RECOMMEND OUR BUYERS TO BUNDLE & SAVE TO SAVE ON SHIPPING COSTS! WHICH MEANS WIN MULTIPLE AUCTIONS AND PAY ALL AT ONCE WHEN YOU ARE DONE, WE WILL COMBINE ALL YOUR AUCTION INTO ONE INVOICE AND YOU PAY ONLY ONE EXACT POSTAL FEE. IF YOU PAY TWICE YOU WILL PAY TWO SHIPPING FEES SO PLEASE DO NOT MAKE THAT MISTAKE. eBay MANDATES US TO SHIP WITHIN 24 HOURS OF PAYMENT RECEIVED. WE KINDLY ASK THAT YOU INFORM US THAT YOU ARE DONE BIDDING ON MULTIPLE ITEMS AND WOULD LIKE A COMBINED INVOICE WITH ONE SHIPPING COST.
Express International
You may consider $65.00 which includes up to 30 notes - with over 30 notes the cost will increase 0.50 cents extra per note.
Or we can also still ship Registered insured mail at $33.25 with 0.50 cent extra per note.
 Express international mail is much faster taking only approximately 10-14 days and registered insured mail takes 30-60 days. You pay double the price for Express but the time is twice as fast. Both services are fully insured.
Both methods are exact cost at the United States Post Offices and are fully 100 percent insured.
Shipping Cost Domestic
USA $200 and under:: Pay First Class $6.00
USA From $201-$500 ::Pay Priority Mail $12.50
USA Over $501-$100K::Pay Express Overnight mail $25.00
If you win more than one item please contact us to send you an invoice and combine all your items in one parcel.
We are more than happy to help you.
By the end of the day you paid in full or first thing in the morning you will get the exact full tracking information to follow. Keep in mind with MOST international packages as soon as the package leaves the United States borders often times tracking goes dark , this does not mean the package is lost , it means the Post office's computer systems does not update as fast as we like them to but after 20 years in business and 50,000 packages only 2 packages ever got lost so please allow 30-60 days for each package!
Do not be concerned with your package until the arrival time is delayed beyond the 45th day of the initial shipment. Then kindly email us to immediately investigate. 99 percent of the time because these registered insured packages must be signed for they often SIT at the Post Office waiting for YOU to claim the package so please inform your Postmaster you are expecting this package.
eBay mandates WE ship within 24 hours of payment so we can NEVER hold orders once you pay but you can delay payment up to but no longer than 15 days from the time of your very first purchase. 
Thanks for Bidding on our Auctions and have Fun !!!!